The Faculty of Creative and Critical Studies provides an environment within which students, faculty, staff and the larger public engage one another as a vibrant, creative, and critical intellectual community.
As being able to venture out into the community to events or to connect with people is not available to us during this time, we have complied a variety of things for you to do and see while in isolation.
We have faculty and students who are offering storytelling sessions, podcast recordings, updates on progress for our upcoming virtual BFA graduating class exhibition, and will add other stories, and share recipes and top picks for books, movies and TV shows to watch as recommended by our staff and faculty.
We are also fortunate to have a number of community partners who are working to keep their community engagement alive and active.
We will be continually updating this list, so bookmark this page for multiple visits! If you want to receive updates via email, please contact fccs.ubco@ubc.ca.
---
Poetry is for Times Of Crisis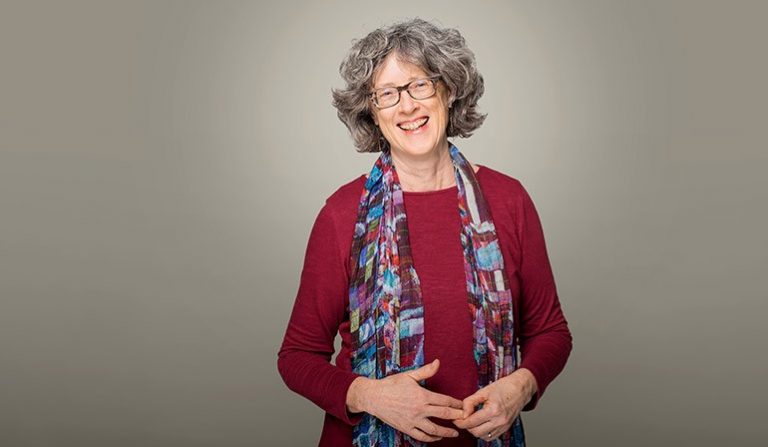 In this unprecedented time of fear, bewilderment, and isolation, poetry is a beacon. It speaks to the complex emotions that are unleashed at times like this, says Nancy Holmes, poet and associate professor of Creative Writing. Read more…
---
Have I told you the one about…
Creative Writing professor Michael V. Smiths shares true stories from his life every night at 8pm. Tune in, subscribe and you are sure to be entertained!
Please note that these stories contain adult content and are not suitable for children.
---
Soundbox Signals Podcast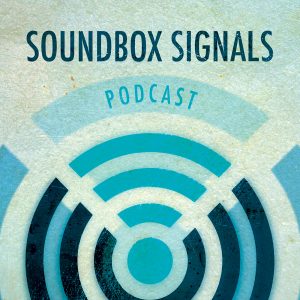 SoundBox Signals is a podcast that brings literary archival recordings to life through a combination of curated close listening and conversation. Hosted and co-produced by English professor, Karis Shearer, each episode is a conversation featuring a curator and two special guests. Together they'll listen, talk, and consider how a selected recording signifies in the contemporary moment and ask what listening allows us to know about cultural history. Episodes are available for streaming or download on Spotify, Apple iTunes, or here on Simplecast.
---
Summer Indigenous Art Intensive Archive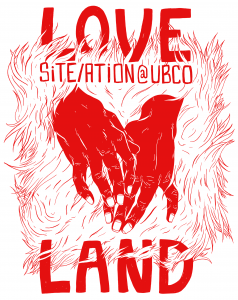 The Summer Indigenous Art Intensive is a month-long residency gathers artists, curators, writers and scholars to engage in contemporary ideas and discourse—a place for new ideas rooted in Indigenous art-making.
Each year we run the Summer Indigenous Art Intensive, and like all other events, we had to cancel for this year. Visit the archive to see what happened over the last few years to keep this top of mind as lead faculty member, Tania Willard, gets ready to start planning for the 2021 session.
---
UBCO Lecture Series – Vernon Public Art Gallery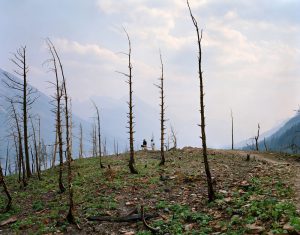 Andreas Rutkauskas teaches photography in the BFA program at UBCO.
He will be leading a lecture via Zoom on Thursday, April 30 from 6-8 p.m. In this lecture, he where he will examine his past research, which relies principally on photography as an artistic medium. His talk will touch on the theme of his projects, which focus on landscapes that have been affected by technology, including cycles of industrialization in Canada's oil patch, the impact of Internet-based research on wilderness recreation, and the subtle technologies used to monitor the Canada/U.S. border. His photographic approach seeks to reveal diverse perspectives, act as a critical foil to dominant media representations of destruction and bravery and open up space for the consideration of practices of resiliency, including the reintegration of fire as a means of maintaining healthy forests and associated ecosystems.
---
BFA Graduating Exhibition – Any Moment
Students have been working hard to create a body of original and engaging works over the course of the year which includes a wide variety of artists' works including sculpture, photography, drawing, painting, digital media and printmaking.
Any Moment is now available on an online platform, which launched May 15
Here is a sneak peak as the students prepare for their exhibition.
---
What would the wind write if it could write poetry?
In this collaboration between nature and technology, Indigenous artist and Visual Arts instructor Tania Willard creates poetry using wind. This is a CBC video of Tania's work from 2018, that will be installed at the University of Toronto Mississauga campus later this year.
---
Books to read
Our faculty and MFA graduate students have published a number of books, and we have created a short list of fiction, poetry and memoirs here for you to read and share with your families. Check out your local bookstore or order online!
Faculty books
MFA Alumni Books
---
More things from FACULTY
Here are a few things we put together to share so people can see the kinds of things our faculty are doing to keep their lives calm and interesting.
The Dean's Cookbook
Our Dean, Bryce Traister, has found himself somewhat of a whiz in the kitchen. Check out The Dean's Cookbook that he is working on while in isolation. In Episode 1, he shares what he has learned in making all things sourdough.
Drive-by Puppet Show
Denise Kenney, Department Head of Creative Studies, drove around with her daughter and asked friends to step out their front door, performing a live puppet show to "I Will Survive." It was a huge hit with their friends and neighbours!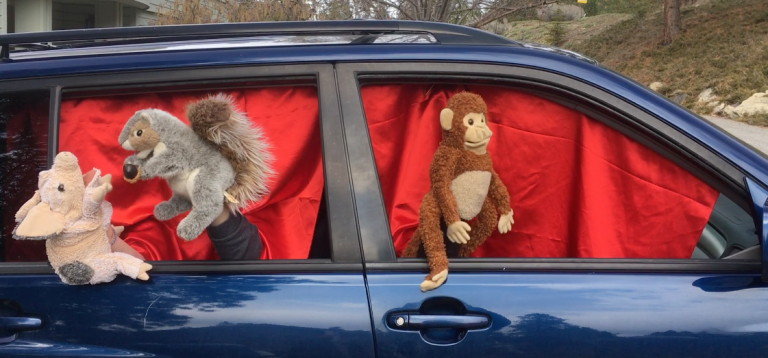 Exercises in Ease
Eliot's conversion poem, about someone else, somewhere else, sometime else, can
speak elsewise here, now, to me, to us. It's a poem for making changes. This entry was shared by Michael Treschow, Department Head of English and Cultural Studies.  Read the full entry, EASE 1 – σχολή.
Shout out to the manager of the Four Points SHERATON
Shirley McDonald, English Lecturer in the Department of English and Cultural Studies, had a very positive experience with the Four Points Sheraton giving her son a room during his 14-day quarantine after returning from Kuala Lampur. Read her message… 
From the Top of the Hill
From the Top of the Hill is a piece of classical music composed by Art History & Visual Culture professor, Robert Belton, as one of two meditations on the consequences of a long hike to the top of Giant's Head in Summerland. The freedom that activity implied, when it was written almost ten years ago, is contrasted sharply in the video to imagery related to the effect of COVID-19 restrictions on day-to-day liberties. These was intended to be a more metaphysical approach to the "express yourself from home" trope that is all over the Internet these days.
The video is a companion piece to "Giant's Head," a slightly longer classical piece intended to convey the impression that hiking to the top of the mountain is akin to glimpsing something beyond the normal range of human perception. As a result, it is more explicitly mystical than metaphysical.
Shakespeare from Home
English professor, Sean Lawrence, has a number of recommendations for all you Shakespeare lovers to watch movies and theatre productions from home:
The Stratford Festival is releasing a series of its recent plays, starting with King Lear, starring the brilliant Colm Feore. The version starring Sir Anthony Hopkins from 2018 is available from Google Play and YouTube, at a nominal cost. Apple TV+ has the 2015 Macbeth, starring Michael Fassbender, as well as the less cinematic but nevertheless much better 2010 production starring Sir Patrick Stewart, who turns the title character into something like a Russian dictator. Both could be compared to Akira Kurosawa's Throne of Blood, possibly the best adaptation ever made of a Shakespeare play, where the characters are all samurai. Then there's the Folger Theatre Macbeth, co-directed by Teller, of Penn and Teller, and the Stratford Festival Version.
ModPoMinute #80: On Fred Wah's "Selves," with Stephen Collis and Karis Shearer
Stephen Collis and Karis Shearer join Al Filreis at Green College, UBC, to discuss Fred Wah's "Selves" from the collection "Is a Door."
Back to Bite You Rehearsal
Here is some video footage of the last day of creative exploration with Neil Cadger, Claudia Moore and Lesandra Dodson in Toronto, December 2019.  Back to Bite You is a dance/theatre performance based on the story of Artemis and Actaeon, and was intended to premiere April 23 in Fredericton NB. What is included here are moments stitched together for further work.  The performance reflected on the power of myth & our relationship with the non-human world – with all that is not us.  Hence, the title.
---
Community Partners
The Vernon Public Art Gallery has created a virtual tour of their current exhibition with Visual Arts Professor Emeritus, Bryce Ryley.
---
Daily Art Challenge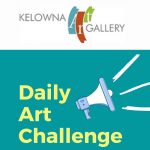 Each day, the Kelowna Art Gallery shares (via Facebook and Instagram) a work from their Permanent Collection along with a prompt word to get people to create and share a new piece of artwork on social media. @kelownaartgallery #KAGartChallenge
---
Recreating Art photo Challenge
The Lake Country Art Gallery has started a Recreating Art photo Challenge…find a work of art and recreate it using anything you have, then post it to social media and tag them to share what you have created.

---
From Our House to Yours
The Okanagan Symphony musicians are sharing their favourite piece of orchestral music live through the OSO Facebook Watch.
From Our House to Yours: Rosemary Thomson

The OSO believes in the power of music to heal, unite and transform. What better time than now to share all of our individual inspiration with you. Be prepared to witness the glorious chaos and authenticity of our real selves, in our real lives. From Our House to Yours is our ongoing gift to you, until we can share live music once again.First in our series is OSO Music Director and Conductor Rosemary Thomson. She and her family present one of her favourite songs for you. Rosemary also recommends one of her favourite pieces, Le jardin féerique from the Mother Goose Suite by Maurice Ravel. Rosemary says "This is my favourite interpretation, you can't beat Dutoit for French music and I love the sound of the MSO." Enjoy! (see the link below). https://youtu.be/a0cNlSa9lP4?t=291

Posted by Okanagan Symphony Orchestra on Saturday, April 4, 2020