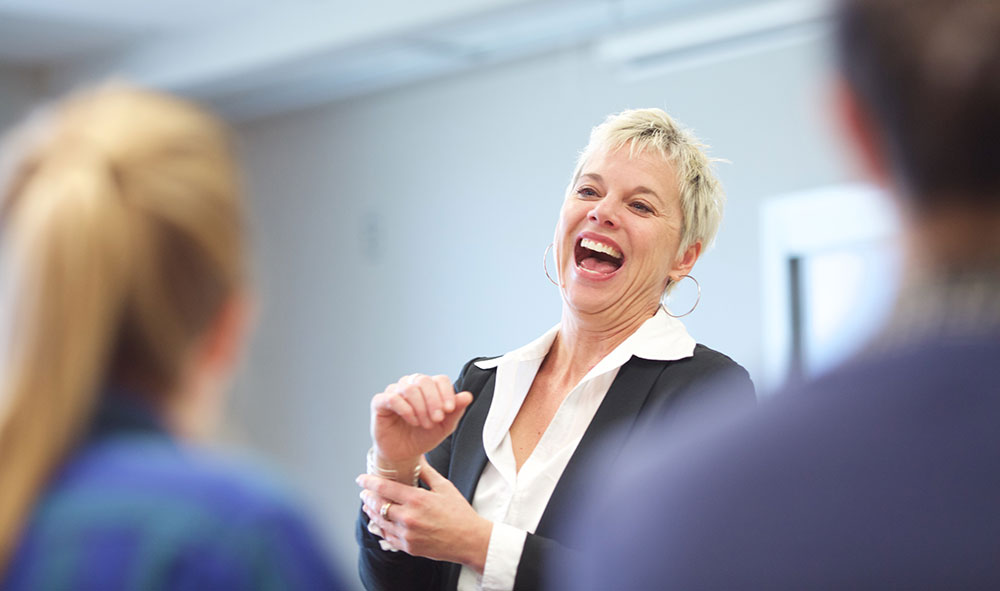 Marianne Legault is an Associate Professor in the Department of Languages and World Literatures, specializing in 17th and 18th century French literature and cultural history. Her research areas include women's literary production in seventeenth and eighteenth century France, as well as novels, fairy tales, and drama. She has been teaching at UBC Okanagan since 2004.
Marianne shared some insights on her teaching and research practices here at UBC Okanagan.
Tell us about your research interests.
I have written a lot about same-sex love in Early Modern literature, in both French and English.  That was my first goal as an immerging scholar: I wanted to get the old skeletons out the French academic closets, the ones no one really wanted to talk about.  It was difficult to be sure.  The conservative scholars were not ready for a different reading of their beloved and often canonical texts.   That's when you know you're on the right track.  When you ruffle things up.   But it was vital to me.  To show that women had loved each other even back then, and how that love had remained silent for so long, overshadowed by the assumption of heterosexual narratives.  Recently, I have (re)turned my attention to fairies, the magical kind.  I am loving going back to French classical fairy tales and examining the relationship between fairies, women, confinement and marriage.  That's my current shtick.   That's what my latest publications are focusing on.  I see a book coming next.
How did you know you wanted to be a professor?
I always knew I wanted to teach.  I must be a bit of a frustrated actor because I feel most myself in the classroom, pacing back and forth and engaging students.  In truth, I began my university degree thinking I'd become a high school history and physical education teacher.   I actually didn't think I would do a PhD or any of that "serious" stuff.  But then, in year two of my studies, I took a 17th century French tragedy class as an elective with the most amazing woman and it changed the course of my life.  After that, I began to think "that's going to be me.  Making students passionate about something they never thought they would even like."  We're still in contact she and I.  I'm so thankful for her inspiration and her mentorship.   I feel incredibly fortunate to be able to do what I do and share my research with students.
What most excites you and challenges you about your field?
Whenever people ask me what I do for a living and I answer, most often than not it's the end of that conversation topic.  You see, people's faces tend to go blank at that very moment… How can they relate to someone researching and teaching Early Modern stuff?  That's the biggest and also the most rewarding challenge in my line of work: making students relate to what they're reading in my classes.  Watching them come to understand that despite the centuries between then and now, between old manuscripts and swiping left, things haven't changed that much.  Love is love, social, gender and racial inequalities still exist, and wars and other societal forms of violence continue to be on display.  Once students see that, my job is half done.  All that remains is to get them to feel some of the excitement I feel when reading these texts.  In a world where everything is available on-line, our approach to literature has to be different.  My purpose and passion are to make it relevant.
Why did you choose to come to UBC Okanagan?
I know people always refer to our "intimate campus community" as the unique aspect of our campus.   But it really is something.  I've taught at other top research universities (the University of Melbourne, the University of Victoria, and the Vancouver campus of UBC), and in my view students navigate those big campuses like they do a big city: fairly anonymously.  What's really amazing about our campus is that we get to have the best of both worlds: the prestige of the UBC name (with its world-class researchers and instructors), and the small campus family-like feeling.  In fact, whether you're a staff member, a student or a faculty member, it's difficult to get from one building to the next without running into someone you know and with whom you want to chat!  It's that very close-knit community that makes it a wonderful and unique place.