Congratulations to Sarah Connery as the recipient of the first ever Critical Animal Studies Book Prize for her essay, "Modern Christianity and Human Exceptionalism: What Does it Mean to Be 'Made in the Image of God'?"
Students in English 457 class were asked to submit their essay for consideration, and the top prize was chosen by the course instructor Jodey Castricano along with PhD student Eve Kasprzycka who is the GTA for the course. Dr. Castricano crated this prize as a way to encourage student engagement in the course and an interest in developing their writing.
Readers of the essay agree that the essay cogently takes on a complex topic and demonstrates a sincere attempt to engage in a discussion regarding the link between historical anthropocentrism and theological debates regarding Imago Dei.
Upon receiving the award, Sarah said: "I am very honored to have won. I really enjoyed researching and working on this essay. It's been incredibly eye-opening to see the breadth of work currently being done in the field of Critical Animal studies in relation to Christianity I was honestly blown away by how much was already out there. I look forward to continuing my studies and passion in this field in the future."
Dr. Castricano notes that Sarah's essay takes up in a meaningful way one of the many premises of the course, which is "to think seriously about animals' subjectivities and to ask what ethical responsibilities, if any, these subjectivities might inspire."
About the course, Sarah adds: "This course proved to be invaluable in my learning journey, challenging even the most deep-seated beliefs about the rights and roles of humans and other animals. I appreciate the viewpoints brought forward by this course and will carry what I learned with me and continue to expand my knowledge."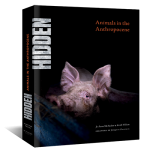 The book prize is a first edition of the international award-winning HIDDEN: Animals and The Anthropocene: (2020), which is described WeAnimals Media (and award-winning photojournalist Jo-Anne McArthur, the co-editor and contributor to the book) as being:
"An unflinching book of photography about our conflict with non-human animals around the globe, as depicted through the lenses of thirty award-winning photojournalists including Aitor Garmendia, Jo-Anne McArthur, and Andrew Skowron. Through the lenses of thirty photojournalists, this book shines a light on the invisible animals in our lives; those with whom we have a close relationship and yet fail to see. The stories within its pages are revelatory and brutal. They are proof of the emergency confronting animals globally, from industrial farming to climate change, and provide valuable insight into the relevance of animal suffering to human health. HIDDEN: Animals in the Anthropocene is a historical document, a memorial, and an indictment of what is and should never again be."