Join Tempest Theatre, Inspired Word Café, UBCO's Creative Studies, and Inner Fish Performance Co in a cabaret style night of climate action focused plays and poetry.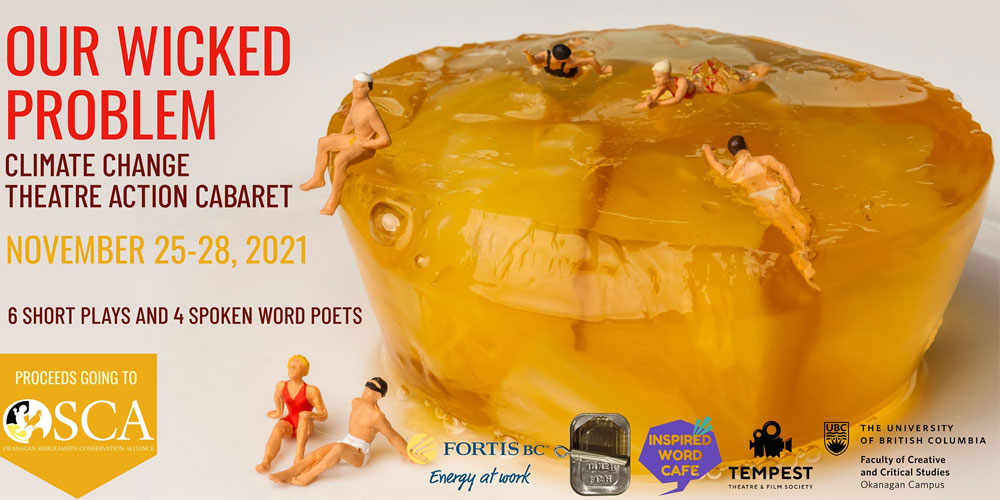 What: Six short plays and four spoken word pieces
Who: Directed by Denise Kenney, Kate Twa, Erin Scott, and Tracy Ross
Penticton Events: Nov. 25 & 26, 6:30 pm PST
Venue: Tempest Theatre, 125 Eckhardt Ave E, Penticton, BC
Kelowna Events: Nov. 27 & 28, 6:30 pm PST
Venue: Blackbox Theatre, 1375 Water St, Kelowna, BC
These events, in both Kelowna and Penticton, feature 6 short plays directed by Denise Kenney, Kate Twa, Erin Scott, and Tracy Ross, as well as local spoken word poets performing original works. Kenney has teamed up with the Tempest Theatre and the Inspired Word Café to produce four events of cabaret performances.
This event is one of many events being managed by Climate Change Theatre Action in New York, an organization that commissions 50 playwrights from around the world to write five minutes plays for people to produce any way they like in their communities. If you want to see what's happening elsewhere, you can go to the CCTA 2021 website: www.climatechangetheatreaction.com
"Scientist have done their job. We have all the information before us in regards to climate change. Right now, world leaders as talking at COP26, but artists can add something quite different to the conversation", explains Kenney, UBCO Associate Professor and co-founder of the Inner Fish Performance Co.
She adds: "As artists, we are uniquely positioned to enter the fray. Poetry, performance, and art takes us beyond the facts and our fears and gets us to acknowledge our shared humanities and our shared dilemma."
"There is also something exciting about sharing with a world-wide community– a global community."
This fundraiser event is part of the Climate Change Theatre Action global series aimed at bringing communities together and encouraging them to take local and global action on climate. All proceeds from these performances will go to the Okanagan Similkameen Conservation Alliance. These events are supported by the Inner Fish Performance. Co. and the Faculty of Creative and Critical Studies.
To purchase tickets, visit: www.ourwickedproblem-kelowna.eventbrite.ca or www.ourwickedproblem-penticton.eventbrite.ca.
Climate Change Happenings!
 At UBCO and around town, a class of UBCO students will be presenting Climate Change Theatre Action plays and their own climate change-focused work in short (less than one hour) happenings.  The poems, microfictions, plays, music, and films all concern this most pressing issue of our time- the Climate Emergency.  Get informed, come together to talk about COP26, and experience the vision of young artists as they grapple with their future.
Climate Change Theatre Action is a project spearheaded by UBC's 2021 Woodhaven Writer in Residence, Chantal Bilodeau.  She has challenged people around the world to take on producing one or more of a collection of 50 short international plays written under the theme "Envisioning a Global Green New Deal."  Creative Writing 260 students have taken up the challenge!
Attend any or all of these free events.  Masks required and Covid protocols are in place.
Keeping the Lights On!—November 22   1 PM,   ART 102
A screening of a short film based on a production of Chris Thorpe's play Not Because We're Good. These students will bring Thorpe's vision to life, and enrich the event with songs, poems and stories of their own.
Fungoj- November 23,  7 PM,   ADM 026
Fungoj is Esperanto, an international auxiliary language, for mushrooms. The play is affirmations by Elena Eli Belyea and accompanying poems and stories are student work.  This is all about small actions, our obsession with technology, and mushrooming hope for the future.
Are You Listening Now? December 9, 11 AM.   Third Space Coffee House, 1708 Dolphin Ave, Kelowna.
A reading of Keith Barker's Apology, My showcasing new and original work by creative writing students alongside the play. The event will include an opportunity to discuss ways in which the community can combat climate change.