The successful SSHRC Canada Graduate Scholarships-Master's (CGS M) Program award recipients were announced in April 2022. We are proud to share that two of our master's of fine arts students and one masters student in the IGS sustainability theme have received the CGS-M, which provides financial support to graduate students who demonstrate a high standard of achievement in undergraduate and early graduate studies.
"Congratulations to this year's masters SSHRC awardees! These prestigious awards support students through their Master's degrees with predictable funding, and enhance their CV for future academic and job applications." Says Greg Garrard, Associate Dean of Research and Graduate Studies.
Below are the recipient from our Masters of Fine Arts with a summary of their research.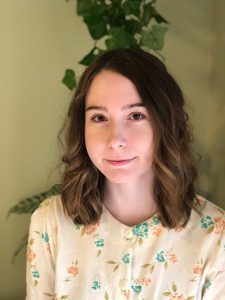 Masters of Fine Arts student Claire Miller-Harder has been awarded a SSHRC CGS-M fellowship for her MFA creative writing project, titled One Acre of Land on Mars. Miller-Harder is completing an MFA with a specialization in Creative Writing, with supervisor Nancy Holmes, and committee members Anne Fleming and Lisa Grekul.
Here is a summary of Claire's research proposal: "My proposed thesis is a collection of linked short stories that explore the intersections between female Mennonite identity and issues of deviance, such as queerness, infertility, mental illness, and suicide. In "Visitant," Iris struggles with infertility in the shadow of her midwife-healer grandmother. In "As Blue as This," Rachel visits an aquarium while pondering a suicide pact proposed by her friend Louise. In "Pomelo," a teenager returns from the psychiatric ward to find she is haunted by Elvis. We return to Rachel in "Where We're Going" as she grieves Louise while dealing with end-times anxiety. By illuminating how Mennonite women find belonging through forms of deviancy, this project discovers new ways of looking at entrapment and liberation."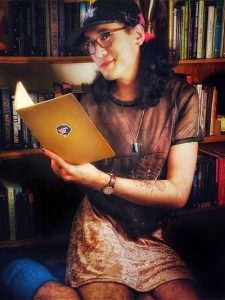 First year Masters of Fine Arts student Shimshon Obadia has been awarded a SSHRC CGS-M for their interdisciplinary MFA research titled, Queer Sounds in the Substructure: Queering Space with Locative Digital Stories. Obadia is completing an MFA with a specialization in Interdisciplinary Studies, with supervisor Michael V. Smith and committee members are Kevin Chong, and Megan Smith
Here is a summary of Shimshon's research project: "Queer Sounds in the Substructure is a public art installation that embodies a queer presence in the conservative small city of Kelowna, BC. This project uses site-specific interactive lyric non-fiction storytelling informed by my personal history living here as a trans person who struggled to come out for years. This work addresses a problem highlighted in UBCO's latest Report on Diversity which asserted that members of the LGBTQ+ community feel severely alienated in Kelowna due to an imposing cis/heteronormative culture. I'm attempting to improve this situation by examining how hearing queer stories in public places might generate a sense of belonging for folk like me."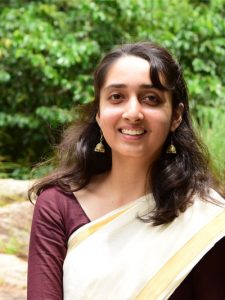 Masters student Chhavi Mathur has been awarded a SSHRC CGS-M for her interdisciplinary MA research titled, Picturing Paradise: An Ecocritical Study of Literature in the Okanagan. Mathur is in the IGS program Sustainability theme, and is supervised by Dr. Greg Garrard along with committee member Dr. Lisa Grekul.
Here is a summary of Chhavi's research project: "While the Okanagan Valley is the traditional unceded territory of, primarily, the Sylix people, successive phases of settler colonialism in this area have altered the landscape in significant ways, particularly through the establishment and growth of its fruit, tourism and wine industries. Through my research on literature from the Okanagan Valley, from between 1892 and the present, I will be exploring the shifting perceptions, imagination, and entangled cultural-material history of the landscape."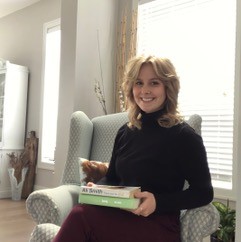 Masters student Brianne Christensen has been awarded a SSHRC CGS-M Fellowship for her MA research titled, Hospitality in Crisis: New Sincerity and Receiving the Stranger in Ali Smith's Seasonal Quartet. Christensen is in the Masters in English program, and is supervised by Dr. Jennifer Gustar along with committee members Dr. George Grinnell and Dr. Margaret Reeves.
Here is a summary of Christensen's research project: "Hospitality suggests the process of welcoming, whether into a home, a community, or a nation. By engaging with critical theories of hospitality and migration ethics to compliment my textual analysis, I will explore how Ali Smith's Seasonal Quartet reflects the (in)hospitality extended to migrants in post-Brexit Britain, which serves as a synecdoche for our global condition. My study of hospitality also locates Smith's work in the growing corpus of New Sincerity literature and, in so doing, theorizes authorship in a time of global crises, during which the author cannot afford postmodern                                                             distance."