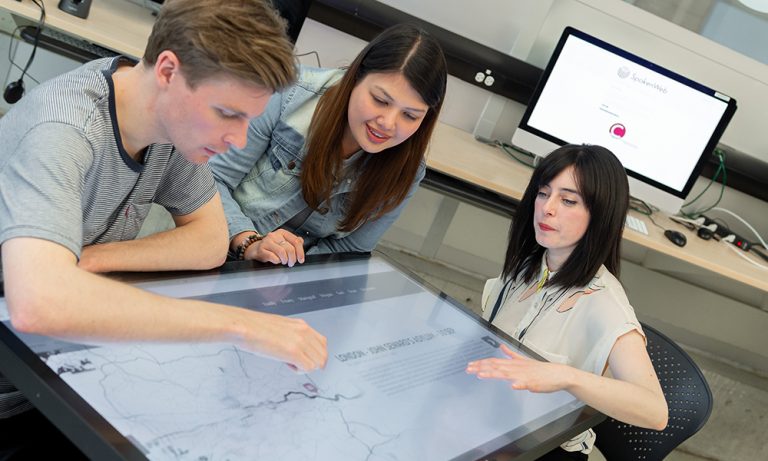 What: Technology, Culture, and Education Unconference
Who: Faculty of Creative and Critical Studies (FCSS)
When: June 18, 1:30 p.m. to 5:00 p.m.; June 19, 9:30 a.m. to 1:00 p.m.
Where: UBC Okanagan Campus, Commons building
UBC Okanagan is hosting an unconference on Technology, Culture, and Education on the UBC Okanagan Campus on June 18th and 19th. The conference, organized by professors Emily Murphy and Karis Shearer in the Faculty of Creative and Critical Studies, is welcoming participants from the Okanagan technology, culture, and education communities. The event is generously hosted in the UBC Okanagan Library in the beautiful new Commons building.
What is an unconference?
Unconferences are informal, participant-driven events that facilitate peer-to-peer learning and collaboration. While attendees generate and propose ideas on the day, organization of the event happens spontaneously to suit participant interests and support community building.
If you have an idea about technology and culture, how you'd like education to address these topics, or problems that education can solve, propose a session! Sessions can be presentations, brainstorming sessions, or workshops. Commit to as much as giving a presentation or as little as asking a question and facilitating a discussion.
Why participate:
Are you:
An entrepreneur or business owner who wants to hire students with critical thinking and technology skills?

A student interested in culture, history, and technology?

A teacher interested in how to teach technology and culture together?  

A researcher interested in how technology and culture come together in different classrooms?

A librarian or public sector employee interested in supporting learning in technology and culture?
Join us with a problem, a solution, a skill, a workshop, a presentation, or a question!
Conference Schedule
Tuesday, June 18
1:30-2:00 Afternoon Unconference Welcome and

Planning

2:00pm-3:15pm Breakout I—Unconference-style Breakout Sessions (rooms TBA) 

3:15-3:45 Coffee Break (at participants' cost)

                                              

3:45-5:00 Breakout II—Unconference-Style Breakout Sessions (rooms TBA)  
Wednesday, June 19                                 
9:30am-10:00am: Morning Unconference Welcome and Planning

10:00am-11:00am: Breakout III–Unconference-Style Breakout Sessions (rooms TBA)                 

11:00am-11:30am: Coffee Break (at participants' cost)

                                                

11:30am-12:30pm: Breakout IV–Unconference-Style Breakout Sessions (rooms TBA)