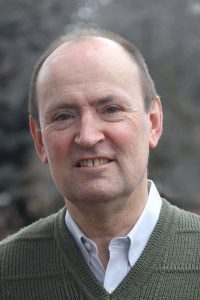 Oliver Lovesey is a full professor, teaching English in the Department of English and Cultural Studies. Dr. Lovesey offers first year introductory courses on genre and upper level courses on Oscar Wilde and also on the Victorian novel. He is the author of five books, and has four other edited works.
Oliver shared some insights on his teaching and research practices here at UBC Okanagan.
Tell us about your research interests.
My work within English Studies allows me to research in different but related areas, keeping in mind that English has traditionally had a close relationship to the study of vernacular music and folklore/folklife. I am now working on a study of popular music autobiography, a monograph project for which I have a contract from Bloomsbury Academic Publishing. It relates to my previous work on music and autobiography and on Ngugi wa Thiong'o, the African theorist and novelist who is best known for his provocative ideas about language, culture, and oral literature or "lit-orature."
My present research also relates to my previous work on "postcolonial" George Eliot, the great Victorian novelist and intellectual whose writing career reflected the Victorian expansion of the British empire. The special issue of the academic journal Popular Music and Society I guest edited, entitled "Woodstock University" with the introduction ("The Idea of Woodstock") and an essay ("Pop Art at Woodstock: Sha Na Na") and eight other articles, one from a performer at the festival who became a professor of German studies, appeared in 2020 (PMS 43.2 2020).
How did you know you wanted to be a professor?
After teaching in Nigeria and then P. R. China, I began to realize that university teaching would be my future. Preparing courses on literary theory and the history of the novel for grad students in China, a number of whom had been caught up in different ways in the chaos of the Cultural Revolution, really opened my eyes, and this initiated my pursuit of a PhD and then teaching and research. Being a professor means being a student forever.
I try to introduce the broad range of these subjects, to connect the material to our chaotic world, to focus on essay writing, and to engage with what students find useful, interesting, and relatable.
What do you think makes UBC Okanagan unique?
UBC Okanagan has many unique opportunities and challenges. It's located in a famously beautiful part of Canada, but it is also located on unceeded territory. It has a lovely, uniquely hot and very dry climate, but there's ever increasing fire danger with global warming. It is a smaller campus but it is linked to a much larger campus in Vancouver with all of its research resources. From its inception, UBC Okanagan has been open to adaptation and change, and that will no doubt continue in the years ahead.