With funding from the Equity Enhancement Fund at UBC Okanagan, current MFA students Michaela Bridgemohan and Andrea Routley are working on an exhibition through the Black Liquorice Studio, and invite submissions from BIPOC artists of the Okanagan for a gallery exhibit and exhibit catalogue in 2022.
This exhibit and catalogue will showcase the artistic practices, interests and processes of selected BIPOC artists of the Okanagan.
Artists may be current UBCO students, UBCO alumni or independent creators with no UBCO affiliation. Each contributing artist will receive a minimum fee of $250 for their participation. Submissions may range from any visual arts discipline, as well as performance art and sound installation.
Submission Requirements
Artists who are current UBCO students, UBCO alumni or independent creators are invited to submit. Artists must identify as Black, Indigenous or a Person of Colour, and live in the Okanagan. We also encourage LGBTQ2+ to submit.
The deadline for submissions is October 15, 2021, with the notification of results to be sent out by November 30. The exhibition will take place in both campus and community spaces: UBC Okanagan's FINA Gallery in February and the Lake Country Art Gallery in September, 2022.
How to Submit
Email submissions and other queries to black.liquorice.studio@gmail.com.
Submissions must include:
An artist statement (500 words max) describing yourself, your art and/or artistic practice, and any interests, places and passions that inform your work/self and practice. Please include your name, location, email and any other contact information in this document.
Visual art: Please submit 10-15 images in PDF (digital images can be transferred via WeTransfer), clearly labelled (number_title), with corresponding image list (number, title, artist name, medium, dimension). For example: 01 Duppy, Michaela Bridgemohan, charcoal on paper, 10 x 15 inch
Video: Please submit video files as .m4v, .avi, mp4, or .mov or provide links to online video. (Links are preferred.)
Audio: Please submit audio files or provide links to online audio.
A CV may be included but is not required.
About Black Liquorice Studio
Black Liquorice Studio is the growing BIPOC artist collective. With this inaugural exhibit, as with future activities, Black Liquorice Studio aims to provide a platform for underrepresented artists in the Okanagan; create opportunities for those artists to build professional relationships with other artists and arts organizations; to foster the development of new ideas and approaches in art and artists' working lives.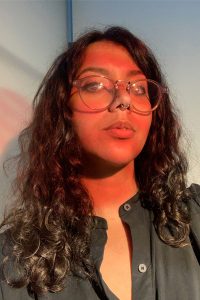 Black Liquorice Studio is founded by exhibit/catalogue curator Michaela Bridgemohan. An interdisciplinary Canadian artist of Jamaican and Australian descent, Michaela grew up in Mokinstsis, also known as Calgary, but now resides in Syilx Nation territory, in Kelowna, BC. She is an MFA candidate at the University of British Columbia (Okanagan) and received her BFA with Distinction from the Alberta University of the Arts in 2017. Michaela's work has been exhibited across Canada and in Australia. Reflecting various intersections of contemporary Blackness and Feminism, these exhibitions include the Feminist Art Collective (Toronto ON), Diasporic Futurisms (Toronto ON), Art Gallery of Alberta (Edmonton AB), Stride Gallery (Calgary AB), Marion Nicoll Gallery (Calgary AB), Whitebox Gallery (Brisbane QLD) and Jugglers Art Space (Brisbane QLD).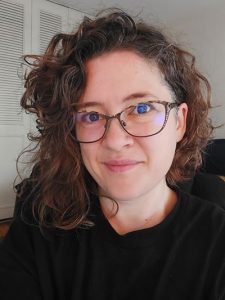 Andrea Routley, an MFA candidate in creative writing, brings her background in professional publishing as an editor and promotions coordinator, as well her experience in community organizing to this project. She is the founder of Plenitude, Canada's queer literary magazine, and for ten years organized LGBTQ2 and feminist youth programs, festivals, and other events. She contributes to Black Liquorice Studio with an eye to administrative and logistical needs.