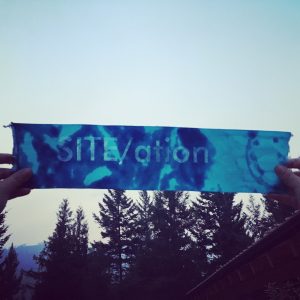 While UBCO has access to some more wild spaces such as the Woodhaven Eco Culture Centre, this is quite a distance from campus. To deal with this, Tania Willard is working to establish a new research creation space here at UBCO, the Site/ation studio, supported by Canada Foundation for Innovation (CFI). Site/ation studio will allow for creative making tied to Indigenous knowledges and creative practice on campus, and will also be activated during the Indigenous Art Intensive program each spring.
CFI gives infrastructure funding to create research centres and labs on campus, which can include renovating or building space, the purchase of equipment and software as well as operational funds to get spaces up and running.
Site/ation studio is a research-creation space that uses collaborative creative practice as a methodology to acknowledge advocate and advance Indigenous land-based knowledges through creative making. The new research/creation space will be located in the portable near the University House here on campus, and with this funding, the space will be renovated and new equipment will include 3D scanners and projectors for projects. This eco-interface zone allows for outdoor making with accessible equipment to interact with the wild and native plants and other life at the edges of campus.
Projects will include a focus on Interior Salish basketry, the Indigenous art Intensive and projection-based work among other research activities. The 'Site/ation Studio' describes the ways that land, as a basis for Indigenous knowledge, can be a site of knowledge production and knowledge transfer equal to the value of academic text-based citations, Willard explains.
"I am planning several research creation projects in the space again considering skills-based making such as basketry, gardening and working with native plants, light projections and 3D scanning as it relates to cultural practices and virtuality, augmented reality and other manifestations of claiming virtual Indigenous spaces to create connections to urban and or global spaces that tether specific Indigenous knowledges of place," she says.
Willard adds that that students and researchers will have the opportunity to work outdoors in a covered area in relation to natural surroundings.
"This will allow us to consider knowledge as embedded in land and Indigenous knowledges of land and work with new technologies in Audio Visual to research and create works that are interested in the interfaces of Indigenous knowledge the land and learning," she says.
Renovations are underway, with plans to open this new space in 2023.