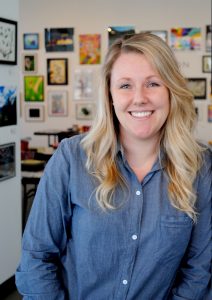 Laura Wyllie graduated with a Bachelor of Arts from UBC Okanagan in 2012. Originally thinking of pursuing a degree in towards architecture, she realized that the science aspects were not for her, and switched to a major in Art History and Visual Culture.
After completing her undergraduate degree, Laura continued her studies at Carleton University, completing a Masters in Art History. While in Ottawa, she had the opportunity to complete a practicum in the Education, Public, and Community Programs department at the Ottawa Art Gallery. Laura moved back to the Okanagan in 2015, and began working at the Kelowna Art Gallery as a summer student, continuing on as the full-time as a public programming assistant that fall, while working towards her Masters in Education at UBCO.
Nearly 4 years later, her job title is the Curator of Learning and Engagement. As the leader of the education and public programs department, she advocates the role of art in lifelong learning for all members of the community.
"I strive to create programs with my team that offer meaningful art experiences for all ages and abilities." Laura says, "While my studies focused on art education and theorizing what the role of a public art gallery should be, I was able to reflect on daily experiences at the gallery and the diversity of visitors we work with, teach, and learn from."