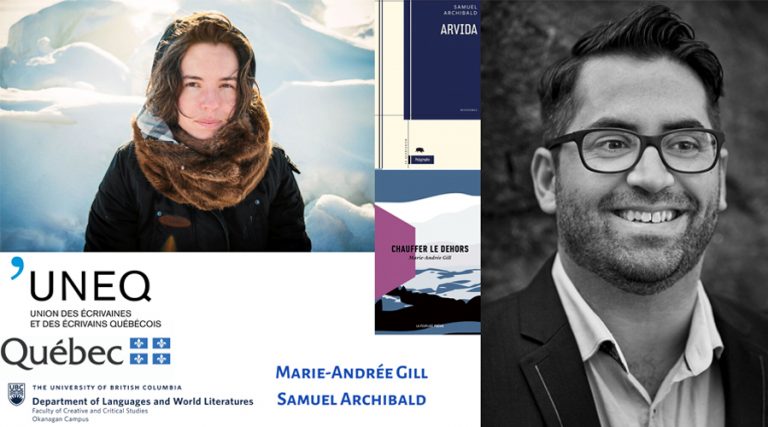 The Department of Languages and World Literatures is pleased to welcome Visiting Authors Marie-Andrée Gill and Samuel Archibald to UBC Okanagan for a series of public talks from January 22 to 24, 2020. These talks are presented as part of the FCCS Visiting Author series in partnership with the Inspired Word  Café. All events are free and open to the public.
Public Talks
When: Wednesday January 22 2020, 2-3pm
Where: UNC212, UBC Okanagan Campus
A Reading a Conversation with Samuel Archibald and Marie-Andrée Gill. This talk is part of Dr. Francis Langevin's course Techniques of Oral Expression (FREN345).
When: Thursday January 23 2020, 7-9pm
Where: 702 Bernard Avenue
This event is presented as a collaboration between the IWC Public Reading Series and UBC Okanagan's Faculty of Creative and Critical Studies. The bilingual event features three writers from out east: Ian Ferrier, Samuel Archibald and Marie-Andrée Gill.
When: Friday January 24 2020, 7-9pm
Where: 702 Bernard Avenue
Hitoires au coin du feu: a storytelling night.
About the authors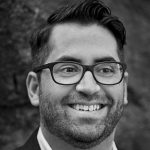 Samuel Archibald is a writer and screenwriter original from Saguenay-Lac-Saint-Jean (QC). He is a professor of creative writing and genre literature (sci-fi, horror, pop culture) at Université du Québec à Montréal (UQAM). His first fiction book, the best-seller Arvida (25 000 copies sold in Quebec only), translated by Donald Winkler, was shortlisted for the Giller Prize (2015). The webseries Terreur 404 (2017-2018) he co-wrote with William S. Messier won 2 Gemini Awards and many juried prizes in international Webfests (Germany, South Korea, Russia, Canada).
Marie-Andrée Gill is an Ilnu poet born in Mashteuiatsh (QC). She is the author of three celebrated poetry collections with La Peuplade: Béante (2012), Frayer (2015), and Chauffer le dehors (2019). Her first collection of poetry (Béante) was nominated for a Governor General Award. Her work appears in French and in English in anthologies and magazines such as Estuaire, Le Sabord, Poème Sale, Sirale, Guernica Magazine, and Tupelo Quarterly.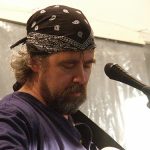 Ian Ferrier is one of the core writer/performers in the North American performance literature scene. His work is well-known across Canada, New York and Europe. Rooted in poetry, his live performances are a haunting blend of acoustic guitar, choir; whispered voice, and the trancelike music of a band called Pharmakon. His signature is the quiet, compelling voice at the centre of every piece.
These events are sponsored by the City of Kelowna, Secrétariat du Québec aux relations canadiennes (Bureau du Québec à Toronto, l'Union des écrivaines et des écrivains du Québec (UNEQ), le Centre culturel francophone de l'Okanagan, The League of Canadian Poets, Social Science and Humanities Research Council of Canada, and UBC Okanagan's Faculty of Creative and Critical Studies.