The successful SSHRC Canada Graduate Scholarships-Master's (CGS-M) Program award recipients were announced in April 2020. We are proud to share that four of our master's students have received the CGS-M, which provides financial support to graduate students who demonstrate a high standard of achievement in undergraduate and early graduate studies.
"We're excited to have so many successful CGSM students in FCCS this year. These prestigious awards support students through their Master's degrees with predictable funding, and enhance their CV for future academic and job applications." Says Greg Garrard, Associate Dean of Research and Graduate Studies. "They also open to the door to Michael Smith Foreign Study Supplements, which we especially recommend students to access."
Below are the recipients from the IGS and MFA programs in FCCS with a summary of their research.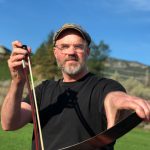 Incoming Digital Arts & Humanities MA student Craig Carpenter has been awarded a SSHRC CGS-M fellowship for his interdisciplinary MA research on literary audio, titled The Numinous Reel: How the personal magnetic tape recorder shaped poetry, poetics and an artistic community, which he's set to begin in September, 2020. His supervisor is Dr. Karis Shearer.
Here is a summary of Craig's research proposal: "Drawing upon a combination of archival tape recordings from the UBCO SoundBox Collection (housed in the AMP Lab) and by producing new born-digital oral histories with some of the TISH poets (Daphne Marlatt, George Bowering and Robert Hogg) my project seeks to outline how their poetry intersected but also "made new" the poetics of Olson and what role the emergence of personal magnetic tape recorders played in this evolution. This research project will employ an interdisciplinary research model that merges literary, communications, acoustic, and cultural theory and methodologies. The aim of this research will be to not only understand these schools of poetry in relation to and through their analog audio recordings and practices but perhaps more essentially—to grasp what we can learn from them about listening ethically."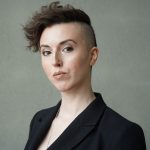 Digital Arts & Humanities IGS graduate student Kaytlyn Barkved has been awarded a SSHRC CGS-M for her interdisciplinary MA research titled, Neuroqueer Imaging. Her supervisor is Dr. Aleksandra Dulic and committee members are Drs. Ilya Parkins and Karis Shearer.
Here is a summary of Kaytlyn's research project: "My research is focused on producing an interactive and generative art project that bridges the interdisciplinary fields of Visual Arts, Critical Disability Studies, and Gender and Women's Studies from the autistic perspective. I will design a collaborative digital drawing program for users to interact with. Each piece of generated art will be a unique study that attempts to fill theoretical and cultural gaps around individuals with cognitive, mental, and emotional disabilities that have largely been absent from Critical Disability Studies. The project will be exhibited locally for public interaction and will also feature an online iteration."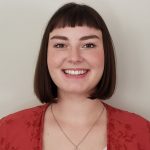 Masters of Fine Arts Creative Writing student McKenzie Smyth has been awarded a SSHRC CGS-M for her graduate research titled, The Posthuman Prairie Gothic: A Collection of Stories. Her supervisor is Anne Fleming and committee members Michael V. Smith and Nancy Holmes.
Here is a summary of Mackenzie's research project: I am writing a collection of linked short stories, all taking place in the same unnamed fictional town in rural Northern Alberta. The stories will feature a recurring cast of characters – residents of the town and the surrounding farms. The collection's primary recurring character is Clementine LeClair. Clementine is past middle-age, works part-time at a garden center, and lives on a hobby farm with her husband Morley, a retired oil man, after their grown sons move to the city. Through Clementine and those around her I will explore themes of aging, motherhood, and aloneness, all in relation to rural life. A large part of rural life is death. In particular, animal death and human relationships to animal death. Each story will contain the death of an animal, ranging from small to large, magpies to cattle. What is more, it will most often be women in these stories who come upon the dead animals and must reconcile their deaths. These stories, then, will look at women's experiences, animal death, and the prairie landscape, all through a gothic lens.
Masters of Fine Arts Creative Writing student Manjinder Sidhu has been awarded a SSHRC CGS-M for her graduate research titled, Lost and Found. Her supervisor is Michael V. Smith and her committee members are Anne Fleming and Nancy Holmes.
Here is a summary of Manjinder's research project: "My proposed graduate thesis Lost and Found, is a collection of ten fictional short stories that focus on the intersections between gang culture and modern Indo-Canadian identity.The stories will follow the lives of modern Indo-Canadians as they search for belonging and identity in their rural Okanagan communities: a single mother fights to clear her dead son's name from a mistaken gang affiliation; a female RCMP officer struggles to contain her resentment towards her own ethnic community; a high school student is disowned from his conservative Sikh family after he refuses to wear his turban. These are some of the modern concerns facing Indo-Canadians like myself, where being born in Canada catches us between identities and cultures."