The Social Sciences and Humanities Research Council recently announced the recipients for the SSHRC Doctoral Fellowship in early November. We are proud to share that two of our doctoral students have received the SSHRC Doctoral Fellowships, which provides financial support for high-calibre students engaged in doctoral programs in the social sciences and humanities.
These prestigious awards support students through their Doctoral degrees allowing them to focus on their studies and research, explains Dr. Greg Garrard, Associate Dean of Research and Graduate Studies in FCCS.
"Congratulations to this year's doctoral SSHRC awardees! Toby Lawrence's research in the field of art curation and Indigenous engagement speaks to the importance of the fine arts in reconciliation, and Melissa Hart's exploration of eco-narrative recognizes the vital role of storytelling in sustainability initiatives. We wish them the best of luck with their projects." Says Garrard.
Below are the recipients from the IGS program in FCCS with a summary of their research.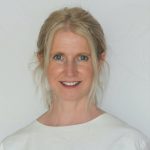 Melissa Hart is a doctoral student in Digital Arts and Humanities in the second year of her program. Hart's creative research explores art as eco-activism through meta-narrative. Her current research interests lie in creative eco-narrative, digital painting, regenerative-culture, and in-situ, practice-based methodology. She received a Social Sciences and Humanities Research Council Canada (SSHRC) Doctoral Fellowship Award, 2020-2024; a University of British Columbia Special Graduate Student Award, 2019; and a Province of British Columbia for the British Columbia Graduate Scholarship (BCGS), 2019.
The title of her research proposal is Judas-Kiss—Betrayal of our Primordial Comrade in the Rarest Rainforest on Earth: wolves and humans in British Columbia's Southern Interior Rainforest, and she is co-supervised by Michael V. Smith & Dr. Bryce Traister.
Here is a summary of Melissa's research proposal: Creative-research, in the digital humanities, in the form of eco-criticism, is a new and vital area of study. Building on my Master of Arts research, which examined the evolution of story through social media, and also my experience as a published novelist, and award-winning blogger, I will create a digitally illustrated novella as an agent for social change. Specifically, I look at the processes involved in a hybrid research that combines onsite auto-ethnography and experiential learning, with digital documentary tools. I examine how digital technology tools aid in the creation of art as an embodiment of forest life, and also, the ways in which digital tools act as a conduit—in the form of digital art—to reconnect humanity with nature. Through engaging in creative writing and digital art practice in an effort to bring about change, I give voice to the silenced in British Columbia's Interior Temperate Rainforest.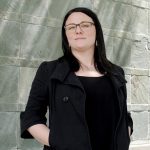 Toby Katrine Lawrence is a doctoral student in the IGS individualized program, having reached candidacy in July 2019. She is currently conducting field and archival research that will focus on a selection of case studies and their active renegotiation of access, economic, gender, and racial inequality through their relationships to labour, land, and community. The title of her research proposal is Models of Reimagined Curatorial Practice: Land, Labour, and Community, and she is co-supervised by Ashok Mathur (OCADU) and Tania Willard (UBCO).
Toby is a settler-Canadian curator, writer, and researcher living and working between Snuneymuwx, Lekwungen, and W̱SÁNEĆ territories. Her work centres a collaborative and relational approach, and is focused on anti-racist, decolonial, and intersectional feminist methodologies.
Here is a summary of Toby's research proposal: My doctoral study examines models of curatorial practice that depart from traditional western art gallery and museum frameworks. Centring the social responsibilities of curation, my research asks: How are curators reimagining their praxes? How are curators intentionally caring for their practices to better care for those invited to contribute and for those who constitute their communities? How do these strategies replace, intervene in, or work in conversation with settler-colonial models to establish accessible, ethical, equitable, and anti-racist spaces of art? Within colonial nations such as Canada, how are exhibitions and organizations acknowledging their position with reference to the land on which they are presented or operate? What are the frameworks for organizing found inside and outside of the arts, not limited to collaboration, community organization, hospitality, and relationality, that offer strategies addressing culturally nuanced expectations within the curatorial? Using intersectional feminist and decolonial methodologies, this research demonstrates the significance of these models in challenging access, racial, gender, and economic inequalities in the arts and analyses the labour involved and the relevance and impact in relation to location and community.