Rachel Stubbs completed her MA in English in June 2020 at UBC Okanagan. She came to UBC after completing a Bachelor's degree in English and History at MacEwan University. Her thesis, titled, "Dear Mr. Dumbledore: Handwritten and Printed Intraliterary Texts in Lewis Carroll's Alice Series and J.K. Rowling's Harry Potter Series," examined Harry Potter as a serious contribution to contemporary children's literature that is in conversation with Lewis Carroll's Alice series.
"This thesis argues that Rowling and Carroll understand the texts within their series, such as the labels, signposts, letters, memorandums, diaries, and textbooks, as important and authoritative entities. This thesis addresses the readers within and outside of the series as figures whose participation is equally as important as the fictional characters. Ultimately, I show that Rowling and Carroll share an obsession with print, handwriting, and reading."
Rachel is now pursuing an English Ph.D. at the University of Calgary where her research is focused on early twentieth-century Canadian women writers who depict and construct Indigenous girlhood.
We asked Rachel to discuss her experience at UBCO as a master's student.
Tell us about the road to earning your UBC degree.
I chose UBC Okanagan mainly because I wanted the "big university" feel without living in a big city. Living with close access to nature is and has been a mainstay in my life, and I knew I needed to feed that in some way. When I was researching grad schools, UBCO was one of my top schools for that reason alone (I was not disappointed). I loved my experience at UBCO, but these were definitely some of the most difficult years in my personal life. Not only did I have some personal medical issues, but my father also became terminally ill while I was away. Being away from home and my support network was incredibly challenging. However, I was so fortunate to have the most wonderful and understanding supervisor, and a really close-knit cohort that truly walked through those moments with me. I would not have been able to complete my degree without leaning (sometimes falling) on them.
Tell us about your thesis.
I chose the subject for my thesis because I loved the idea of studying children's literature at an academic level. Like many people from my generation, I had a borderline obsession with Harry Potter as a child and was so excited about the possibility of studying it as part of my graduate thesis. I also loved the strangeness of Alice and realized that very few people had read these texts together.
How did your professors support you throughout your degree?
The professors at UBCO are in my top favourite things about the university. Dr. Margaret Reeves was my supervisor during my Master's degree and I cannot put into words how wonderful she was for me. She often reminded me to give myself grace when I needed it most and encouraged me when I felt insecure about my work. Dr. Reeves also believes in a holistic approach to supervising and was concerned about all aspects of my life during my degree, which was something I didn't even know I needed at the time. Dr. Reeves was nothing short of irreplaceable.
Dr. Lisa Grekul was also a fundamental reason why I began to love teaching. Watching her work and then working with her as her TA was a real privilege. Dr. Grekul's passion for the material comes through in her teaching which I believe is one of the many reasons her students adore her. She was always positive, always supportive, and always happy to hear from me.
Dr. Fransisco Peña was also a wonderful professor to work with. Dr. Peña allowed me to really grow and gave me so many opportunities to strengthen my experience and also trusted me, which was such a validating feeling as a graduate student. He was invested in my career and encouraged me to pursue PhD programs. Dr. Peña is also a wealth of knowledge, and many times we would get off track just talking about fascinating topics that arose in the classes he taught.
How did the campus community contributed to your experience?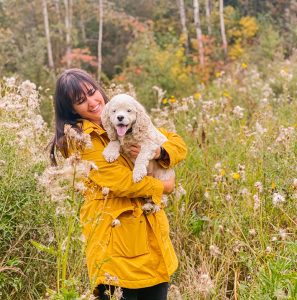 The community at UBCO was one of my favourite parts. My cohort was fantastic. When my father was too sick to travel and my family was caring for him and could not come to my thesis defense, my entire cohort showed up in an overwhelming demonstration of their support and even filmed it for my family at home. My cohort and I became real friends and I was (and still am) so fortunate to have them.
The university library I also found was a great resource for me, especially because some of the articles I was looking for were really niche. What I loved about the library is that they are just as excited as I was about my project!
A highlight for me during my degree was attending and presenting at Congress in 2019, which was a terrifying but rewarding experience as a graduate student!