The Social Sciences and Humanities Research Council announced the recipients for the SSHRC Doctoral Fellowship in the fall of 2022. We are proud to share that three of our doctoral students have received the SSHRC Doctoral Fellowships, which provides financial support for high-calibre students engaged in doctoral programs in the social sciences and humanities.
Below are the PhD recipients supervised in FCCS in the IGS programs, with a summary of their research.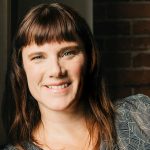 Tara Nicholson is an artist and PhD student (IGS Digital Arts and Humanities) where her more-than-human research is documenting Arctic extinction and the erosion of permafrost ecosystems at a time when the Arctic is warming at a rate of 2-3 times faster than other landmasses. She is co-supervised by Jodey Castricano (FCCS) and Samuel Roy-Bois (FCCS) with committee members Astrida Neimanis (FCCS/CCGS) and Aleksandra Dulic (FCCS).
Her dissertation situates the Arctic as a harbinger of rapid change that is interlocked to the rising significance of the 'frozen' within scientific study and cultural narratives. Expanding permafrost studies, rewilding, cryo-preservation, species resurrection and the ability to 'freeze' the impacts of climate crisis are now interwoven into definitions of the North. Through storytelling, field research, studio production and literary review her research will culminate into a large-scale exhibition and artist publication. Recently, she presented at the "Animals & Landscapes Symposium" (Liverpool) and will be part of "Wicked Problems: The Humanities in an Age of Planetary Agenda-Setting" a catalyst grant collaboration between UBC Okanagan and Exeter University (UK).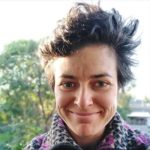 Madeline Donald is a PhD student in the IGS Sustainability theme working with co-supervisors Greg Garrard (FCCS), Natalie Forssman (CCGS), and committee members John Wagner (CCGS), and Tess Lea (CCGS).
The title of her research proposal is: Investigating Brandt's Creek's fringe nature. Madeline's research is an investigation into Brandt's Creek, in Kelowna, British Columbia, unceded and occupied syilx territory, and the riparian beings it supports. Kelowna's early colonial industrialization was a process that partitioned and paved over the expansive and ecologically complex floodplain that preceded the city, setting specific courses for water to flow through; this is how Brandt's Creek came to be where it is today. Presently, the city's waterways do not have the capacity to accommodate for current, let alone expected flows. Madeline is therefore asking the question, 'What does Brandt's Creek need in order to be(come) its most bountiful and vibrant self given the past histories, current policy ecology, and future needs of its diverse riparian communities?'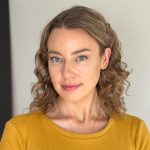 Eve Kaspryzycka is a PhD candidate in the Power, Conflict and Ideas theme having reached candidacy in the summer of 2022. Her CGS-D supported research bridges theoretical and intersectional perspectives on violence, governance and animals. Eve is supervised by Oxford Centre for Animal Ethics Fellow Dr. Jodey Castricano (FCCS), with committee members: Canadian Research Chair Dr. Astrida Neimanis (FCCS/CCGS), Lansdowne Chair in Law Dr. Maneesha Deckha (University of Victoria), Oxford Centre for Animal Ethics Fellow Dr. Kendra Coulter (Western University) and Dr. Kelly Struthers Montford (Toronto Metropolitan University).
The production of animal-based products contributes to a climate crisis that exasperates disparate levels of inequality among humans, other species and ecologies. Eve's research examines how biotechnologies and their tangential apparats of commercial and governmental legitimization are successful in representing these destructive and oppressive "externalities" of economic growth as tantamount to progress, justice, and democracy. This dissertation maps the development of patenting laws, the advances in CRISPR and the intensification of value extraction between the genetic modification of nonhuman animals in xenotransplantation, species revival and industrial agriculture. Eve presented her initial findings at the Oxford Centre for Animal Ethics' "Public Policy and Institutionalising Animal Ethics Symposium" in August, 2022.