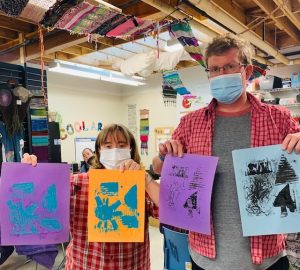 What: Hearts Together
Who: Cool Arts
When: February 6 to 16, 2023; 9 a.m. to 4 p.m. Monday to Friday
Where: FINA Gallery, CCS Building, UBC's Okanagan Campus, Kelowna
The Faculty of Creative and Critical Studies is please to host the work of artist from Cool Arts Society FINA Gallery from February 6 to 16. Together with art educators during the weekly programs held in the Cool Arts Studio in the RCA, artists worked on the concept HEART, digging into the question – what does HEART mean? Artists discussed their feelings, thoughts, and ideas; then began their step-by-step big picture planning. These pieces are all representations of these collaborative ideas.
Each piece was created with a group of six to eight artists working together. This process encouraged and affected constructive communication and sharing ideas; including skill-building, listening, problem-solving, and planning.  The exhibition includes the work of 40 artists working together on art of all kinds that includes painting and collage.
The concepts that were shared covered a broad variety. Heart symbolism often conjures up a wide range of emotions, from joy to pain, love and devotion to moral courage and physical strength. The shape is securely embedded in western culture. Represented by an anatomically inaccurate shape, the heart is often used to represent the center of emotion, including affection and love, explains Amy Bradshaw, Arts Educator for Cool Arts.
"Cool Arts looks forward to our annual partnership with the FINA Gallery at UBCO where artists get the opportunity to professionally exhibit their art," says Amy. "Creating these important opportunities in the arts for people with disabilities, neuro-diversabilities, and other exceptionalities aids in broadening connections and creating relationships with other artists on campus and beyond."
She adds that it is important to have this recognized and well-funded FINA space to share the work done by people in our community who are seriously passionate about art and who want more public opportunities.
This exhibition is organized by Cool Arts Society and supported by the Faculty of Creative and Critical Studies.
More on the Cool Arts Studio
The Cool Arts studio is a safe, inclusive art studio that offers programs and artistic mentorship with a variety of professional artists who share their skills and lead classes. Cool Arts is a registered not for profit charitable organization managed by a volunteer Board of Directors and others who share their time in many ways; as classroom assistants, event supports, exhibition installations, and so much more.  Cool Arts relies heavily on sponsorships and donors; we welcome your support. To learn more about how you can get involved with Cool Arts, please visit coolarts.ca.