Between Sept. 23 and Oct. 4, Jodey Castricano, professor in the Department of English and Cultural Studies at UBC Okanagan, visited the University of Exeter under the auspices of the University's Visiting International Fellowship Scheme.
The visit, hosted by Paul Young, Associate Professor of Victorian Literature and Culture, focused on developing research and teaching priorities and synergies in the fields of Critical Animal Studies and Eco-Cultures. These two related fields draw together Castricano and Young's expertise, and also engage a great deal of ongoing and emerging ecological and sustainability research and teaching activity in the respective colleges and institutions involved.
The visit to Exeter has allowed for further international collaboration and dissemination of research in the area of Environmental Humanities, especially where this field is inclusive of the interconnectedness of climate change, factory farming and human health, explains Dr. Castricano.
"The visit also enabled me to forge relationships with faculty who are working in these areas inclusive of literary studies and to discuss potential for research partnerships and publications, such as a jointly-authored monograph and/or collection of essays on the research areas we work in." She says.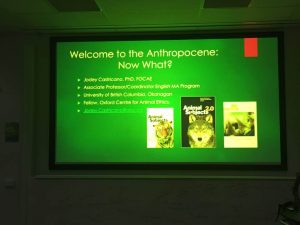 During her visit, professor Castricano was engaged in a number of activities related to her research, and was offered opportunities to connect with others in the field at the University of Exeter. She attended a workshop that addressed human and non-human animal health and welfare, as well as environmental sustainability; she participated in an Animal Studies reading group that brings together lecturers, postdoctoral researchers and postgraduate research students from across the colleges of Humanities and Social Sciences; and she held a public lecture to welcome Exeter's new and returning postgraduate research students, 'Welcome to the Anthropocene: Now What?'.
Paul Young will be visiting the UBC Okanagan campus in the spring of 2020 during the 'Critical Animal Studies in an Age of Mass Extinction,' the inaugural conference of the North American Association for Critical Animal Studies of which Castricano is a co-organizer, to be held at the UBC Okanagan campus.
About the Exeter UBC Partnership
The University of British Columbia, Okanagan, entered into a Statement of Cooperation with the Exeter College of Humanities in the spring of 2018, with the aim to strengthen the relationship between the universities, and nurture a collaborative approach to education, research and academic exchanges.
Faculty members and students from both institutions have had opportunities to travel back and forth over the last year and a half. UBCO team members from the AMP Lab and the Centre for Culture and Technology from FCCS visited the Exeter Digital Humanities Lab in the College of Humanities last winter, with members from Exeter coming to UBC Okanagan last spring.